Flash Fiction Friday #10
Welcome to the final edition of my "Microfiction Summer" project! (Made possible by the Kickstarter backers for my latest novel Cracked! A Magic iPhone Story.) This particular story is about weaponizing love, free will, and superheroes (because superheroes are so popular?).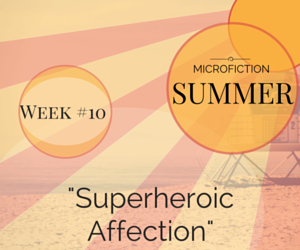 Superheroic Affection
Inspired by Astrid Utrata, who suggested "love, rippled."
Love waves are more destructive than sonic waves. That's what the not-quite-mad scientists who make my weapons tell me, anyway. So when the latest supervillain attacked Los Angeles—after we'd determined he wasn't a special effect or a promo stunt for a new movie—I didn't want to risk it. I went out with my regular weaponry and left the love cannon in the car.
The supervillain blasted me with beams of light. When I dodged them, they sliced cars in half on the street behind me. He was serious. I tried to lasso him, but he slipped my steel-reinforced ropes. I punched him with all my strength, but that only dented my meteorite knuckledusters. I swung my magic hammer in his direction, and it phased right through him.
He turned the Los Angeles Museum of Art to rubble, destroying priceless works. He pelted the animals in the La Brea Tar Pit with baguettes stolen from La Brea Bakery. He blew up my favorite manicure parlor on Rodeo Drive.
It was time to pull out the big guns.
I raced back to my car and dragged out the love wave cannon. It looked like a regular rocket launcher—about a meter long with grips for my hand and a stock for my shoulder. It wasn't the regular brown and black, though. It was painted bright pink with little red hearts flaking off. The scientists had way too much fun with this thing.
I sighted down the love cannon's barrel. Oh goodness. Even the sights were heart shaped.
I squinted my left eye and swung the cannon till this week's supervillain was dead center in the pink frame. He was atop the Beverly Hotel now, tying up a security guard between some potted plants. I took a heavy breath in. Was I really going to do this? To use this weapon that looked like a rocket launcher but was supposedly more destructive?
I really was. It was either this or just watch someone destroy the whole city. To protect the majority, I was going to raze a whole section of Los Angeles. I was going to turn my home to bits and pieces. But at least I had a chance to save some people. That was more than my nemesis offered.
A sweat bead trickled down my cheek, and I dashed it away. I blew out the breath, counted to three, and fired the love waves.
The cannon had no recoil. It rested in my hands, quiet like a plastic toy.
There were no toppled buildings. No bodies exploding in the street. My heart rate slowed, and I wondered if maybe this wasn't going to be so awful after all. Perhaps the scientists had overestimated the weapon's destructive power.
I shouldered the cannon again, using the bright pink sights to check in on my enemy. He was no longer atop the building, laughing his maniacal triumph. Instead, he untied the security guard. Freed from his ropes, the guard reached for the supervillain, not to detain him, but to hold hands. They kissed and smiled and whispered words that I couldn't read off their lips at this distance.
Well, that was one supervillain down. That guy was way too busy impressing his new love to resume his attack on Wilshire Boulevard. In the bright rooftop sunshine, a ring glinted on the security guard's finger. Marriages dissolved pretty quickly for the Hollywood stars, but not for the rest of us. Except, it appeared, when someone had a love wave cannon.
I swung my makeshift uni-ocular to the street where Angelenos were breaking up and reforming into new configurations. Singles turned into doubles. Doubles turned to triples. Triples turned to doubles and a single. Until, within 45 seconds, everyone on the street outside the Beverly Hilton gazed blissfully into someone else's eyes.
At least they were happy. Even if they were undoubtedly breaking hearts outside the weapon's radius. The effects of my deeds rippled out over the city.
I packed up the love wave cannon and put it back in my trunk. Never again. I hope no one ever hit me with one of these.
THE END
Click the links below to read the previous weeks' stories.
"Werewolf-Friendly Hair Straighteners Are Hard To Find" (Week #1)
"Operation: Orange Chicken Casserole" (Week #2)
"Spaceships Aren't Compostable" (Week #4)
"Seattle Freeze-Frame" (Week #5)
"The Wise Man and the Wisent" (Week #6)
"Prisoner of the Housing Development" (Week #8)
And, of course, this whole Microfiction Summer is made possible by the Kickstarter campaign for Cracked! A Magic iPhone Story.