Flash Fiction Friday #1
For the next 9-10 weeks, you can read free fiction right here on this website. I'll be posting a flash story every Friday.
These pieces are inspired by Kickstarter backers for the Cracked! A Magic iPhone Story project. Their ideas are awesome, so I want to share them with you.
This one is my copy-editor's favorite: "Werewolf-Friendly Hair Straighteners Are Hard To Find."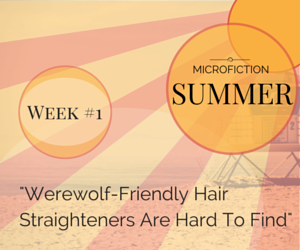 Werewolf-Friendly Hair Straighteners Are Hard To Find
Inspired by Claire Law, who suggested "fusion, twilight, furry."
When you get your hair smoothed, you can't do anything with it for three days. You can't wash it, can't sweat in it, can't wear a hat or hold it back with clips. Nothing. This is supposed to keep it from crimping up, aka unsmoothing. The product stays in your hair, doing its mysterious job and fusing to the follicles, and you don't want to end up with dents or anything.
Most first-timers ask sensible questions like, "So how do I sleep on it?"
I ask questions like, "Why didn't I check the lunar calendar before paying 300 bucks for a crazy salon process?" Because, of course, today is the full moon, and I'm about to get furry. No one puts a sign on a salon to warn the werewolves, "Hey! You'll want to wait a few days before smoothing your hair."
If they knew, they'd probably be thrilled that I'd have to pay for it again the next day. So much for spare cash.
Because, yes, I already paid for it once this very afternoon. A lovely young woman coated my strands in a mysterious substance and painstakingly flat-ironed them to shiny fusion. I'd put bread cubes in my nose to keep from sneezing at the chemicals, and barely noticed the burning hair smell.
Maybe it'll all work out and my fur will be exceptionally pettable tonight?
Then the moon comes up, and I don't know anything at all.
* * * *
I wake toasty-warm at the bottom of a sleepy pile. We're on the forest floor, twigs digging into my naked hipbones. Broken tree bark mixes in the dirt that fuzzes up my tongue. Ick.
My hair! My heart thuds once, loud in my ears, and I know I'm doomed. Under all these other werewolves, I probably sweated in the night (though I won't know until I try to unstick the lowest layer from my neck). I'm on my stomach now, but I doubtless started in a position that pushed these sticks into making now-semi-permanent indentations. And, of course, who knows what changing head hair into fur might have done to the smoothing process?
I squirm enough to free an elbow, scratching my bare skin in little pink lines that immediately turn white, then vanish. Mobile at last, I jab at whoever's on top of me. I want to be free! I need to find a mirror.
My younger sister screeches and rolls away from my elbow. "Oh my gawd!"
"Sorry," I say, but I'm not really apologetic.
"Not that." She clicks her tongue in dismissal, but I know better. She's gonna make me pay later. "Your hair!"
Wow. It's so terrible that she has to exclaim about it the very first thing in the morning. My stomach clenches, and I make a mental note to schedule another appointment. Bye-bye, bonus money. "Thanks, sis." My voice is dry.
She reaches out, but stops just short of touching my scalp. She's got that look of awe on her face that we both mock on TV shows when the awesome thing is off-screen, but the actors have to try really hard to convey its amazingness before the channel cuts to commercial. "It's so thick and straight and shiny."
What? My heart double-thumps. "You'd better not be kidding me."
She dashes to the tree where we buried our clothes the night before and scrabbles at the earth until she reaches her pleather jacket. She shakes it out and delves into a pocket for a compact mirror. I bought it for her last Christmas; it's studded with rhinestones.
"See?"
Whoa. In my tiny reflection, revealed piecemeal because I can only see parts at once, my hair is amazing. It's thicker than it's ever been, and it shines a glossy dark brown in the pre-morning light. It looks so smooth. All the frizz has been tamed and turned into a luxurious pelt that I want to run my hands through.
I don't touch it, though. I know the rules. You don't touch, don't sweat, don't wear a hat. I may have gotten a reprieve—werewolf genes may interact seriously well with the process—but I'm not going to mess this up.
I'm having the best hair day ever, and on the night after a full moon no less. I love this new styling process. I'm going to get it done all the time.
My sister leans in. "How much did that cost?"
I'm going to need a better paying job.
THE END