Flash Fiction Friday #9
The penultimate week of this Microfiction Summer! (Made possible by the Kickstarter backers for my latest novel Cracked! A Magic iPhone Story.) I'm posting this week's story from WorldCon… so of course it's one of the non-genre ones. Ooops.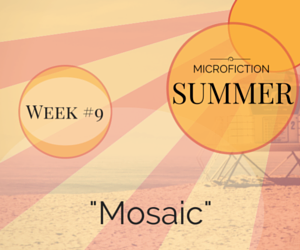 Mosaic
Inspired by James Truher, who suggested "glass cutter, 12:34 p.m., cornflower blue."
Some people hate beach glass. They say it's dirty. These people like washed up green bottles even less. "Let's have a beach cleanup!" they cry.
Jonathan Young and his wife Katy engaged in clean-ups often, but that wasn't their goal this afternoon. They'd both taken the day off from work and gone down to Huntington Beach for midday relaxation and a bonfire. Salt-brine air clashed with sweet smoke on Jonathan's tongue.
"I'll just be a moment," he told Katy. He stood from their orange blanket, feet shifting on the sand, and shouldered their hemp tote bag. He smoothed the perplexed V in her forehead before sauntering down to the water's edge.
The closer he got to the surf, the easier it was to walk. His feet found purchase on dense pack, and his toes made gripping dents in the wet sand. That'll take a while to clean out from under the nails. He bounced the tote forward and back till he reached his quarry: a whole line of glass, deposited by the oceanic gods. The sun beat down and sparkled off his prizes.
Picking carefully for the treasures among the white froth, he plucked beer bottles in green and brown. These, he deposited in his bag, alongside a rocklike piece of cornflower blue sea glass and a sliver of seafoam green that had to be older than half the beach's population. Rare pieces shared space with the mundane.
Happy with his haul, he returned to the bonfire. Its snap-popping made a musical counterpoint to his tote's light clinking. For the whole walk of not-shame back to his wife, he progressed under Katy's laser stare. When he finally reached her, she blinked rapidly and wore a sickly smile.
"What have you collected today?" Her words sounded interested, but Jonathan knew he was on thin ice that could crack like old glass at any minute.
I'll make her appreciate my spoils. He brandished two green bottles, labels long lost to the ocean. They gleamed in the noonday sun. "I forgot water glasses," he said. "But I brought a glass cutter!"
A quick dig through the bag, and he dropped down beside her with a bottle in one hand and a long-handled cutter in the other. The steel wheel, perfectly honed for all of his crafting needs, scored the green glass with a screech.
Katy leaned away and raised one hand to her ear.
Jonathan pretended her distaste didn't bother him and thrust the bottle into the fire briefly to heat the scoring. The top sheared off, smooth as waves on a calm day. "And now we have glasses."
He rinsed out the new-made cup with bottled water, then poured a libation of red wine. The cup turned a murky burgundy with the addition and mixed a fruity note into the air. He presented the drink to her with a seated bow. "My lady."
"Wine at"—she checked her watch—"twelve thirty-four? Really?" But Katy accepted the glass all the same. She took a pull from it, watching him over the flat rim as he repeated the process, filled his own cup with water, and sequestered the leftover glass in a baggie.
Before she could ask, he explained, "It's for that mosaic table I'm making."
"You've been making that thing for two years."
It had been longer than that, and Jonathan knew she wasn't impressed by his progress. "I'm going to finish it this summer." He probably wasn't. Sand stuck to his palms, hot and sweaty from more than the fire's heat.
"If it's still there in September, I want it out of the garage. You can sell it to some other crafters, maybe."
That was fair. Katy had given up her car's space in the garage for his table project. "Okay." Today was supposed to be a vacation, after all, not a chance to fight about the clutter in their house.
He reopened the tote to put his glass cutter away, and his hand brushed against a smooth not-stone about the size of a silver dollar. This will get me into her good graces. John slid the cornflower blue sea glass out of its pocket and onto the beach blanket behind the tote where Katy couldn't see it. He smeared it with oily sunblock, then took the glass cutter in hand.
Slow, steady, he scored the edges in the shape of those Art Deco chevrons Katy liked so much. He added a tiny circle at the top of his design. With the tongs they'd brought to turn hot dogs, he held his offering over the snapping bonfire till it heated through.
"Whatcha doin'?" asked Katy.
"You'll see." His fingers turned red when he pushed the hot edges from her soon-to-be bauble. When the ball end of the cutter drove out the circular hole, he smiled like a dolphin. Jonathan dunked the pendant in his water, then strung it on a piece of twine from the bottom of the tote. "C'mere," he said.
She came, blushing, and let him tie the necklace around her throat. Her hand came up to pet it, and she pecked him on the cheek. "It's a beautiful color."
It's a stay of execution. Jonathan was sure she'd let him have a few more months to finish that mosaic table now.
THE END
Click the links below to read the previous weeks' stories.
"Werewolf-Friendly Hair Straighteners Are Hard To Find" (Week #1)
"Operation: Orange Chicken Casserole" (Week #2)
"Spaceships Aren't Compostable" (Week #4)
"Seattle Freeze-Frame" (Week #5)
"The Wise Man and the Wisent" (Week #6)
"Prisoner of the Housing Development" (Week #8)
And, of course, this whole Microfiction Summer is made possible by the Kickstarter campaign for Cracked! A Magic iPhone Story.