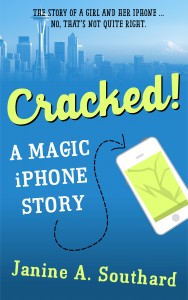 What can your phone do for you?
This is the story of a girl and her iPhone. No, that's not quite right. This is the story of a middle-aged statistician and her best friend. Though she didn't consider herself middle-aged. And the best friend was more of a roommate-with-whom-she'd-developed-a-friendship. And this description completely ignores the 6,000-year-old elf with whom the woman and her best friend enjoyed story gaming.
So let's try this again.
This is the story of a woman who wished to find love, but who would rather play story games than actively look for it. Especially in the wake of a horrid break-up six months before from a man who had never sent her a single gift.
Until this Valentine's Day, when she received a brand new iPhone in a box with his name on it.
Between story gaming and succumbing to the phone's insidious sleekness, she learns that friendship trumps romance.
In Cracked! A Magic iPhone Story, award-winning author Janine A. Southard (a Seattle denizen) shows you how the geeks of Seattle live, provides a running and often-hilarious social commentary on today's world, and reminds you that, so long as you have friends, you are never alone.
Wanna read chapter one of Cracked! A Magic iPhone Story?
Buy your copy on Amazon.com… or wherever you type "Southard Cracked" into the search box.
Though the Kickstarter project has ended, I'm leaving this link in so that you can enjoy watching my cat steal the show in the video. Check it out here.