The Welsh were the first to colonize other planets (thanks to the Alcubierre Drive, discovered at the University of Wales, Cardiff).
These future Welsh proudly display their heritage through language and druidry. They have also experimented with social structures to create a Hive system. Only the most talented men and women are worthy to join.
Note: This space adventure series is complete!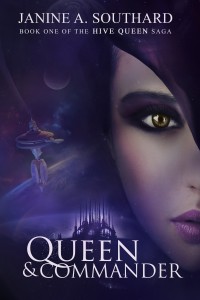 Queen & Commander – Book One of the Hive Queen Saga
Spaceships. Blackmail. Anywhere but here.
**WINNER 2013 IPPY AWARD — Silver Medal for Best Sci-Fi/Fantasy/Horror E-Book**
On a world where high school test scores determine your future, six students rebel. They'll outrun society as fast as their questionably obtained spaceship will take them.
Buy from Amazon.com or from me semi-directly (Ganxy). Or try an excerpt.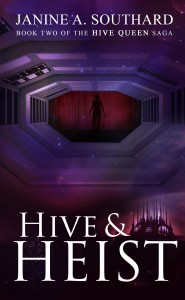 Hive & Heist – Book Two of the Hive Queen Saga
Is it really stealing when you take back what's yours?
A space station caper!
Exhausted and broke, Rhiannon's Hive limps into John Wayne Station on the Ceridwen's Cauldron. Safe at last, this stop-over is looking bright until the authorities steal their ship's engine. The only solution: steal it back!
Buy from Amazon.com or from me semi-directly (Ganxy). Or try an excerpt.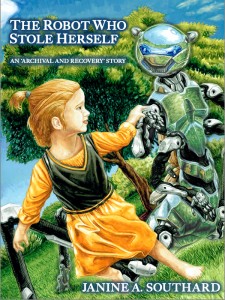 "The Robot Who Stole Herself" – An Archival and Recovery Story
M3L-15-A met our heroes in Hive & Heist. She had to become sentient at some point.
Buy from Amazon.com or from me semi-directly (Ganxy).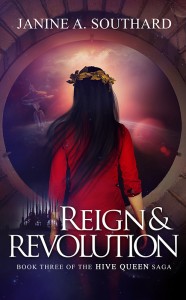 Reign & Revolution – Book Three of the Hive Queen Saga
The Hive Queen Saga's thrilling conclusion!
Rhiannon and her Hive have mastered space travel. Sort of. At least, they're better at it. They've outsmarted kidnappers, survived severe oxygen deprivation, and heisted back their own ship engine from would-be thieves.
Since joining up, they've traveled farther and farther away from their home planet. But out on Yin He Garden Station (in Chinese-owned territory), home catches up.
When Alan's former research advisor makes an offer that'll let them return to Dyfed as respected members of society, Rhiannon knows she must accept. But home isn't exactly as she left it, and a hostile space fleet stands between her aging ship and her new/old life. Should she charge towards the fleet, or scurry back into international space as fast as her craft can go?
Buy from Amazon.com or from the online store of your choice. Or try an excerpt.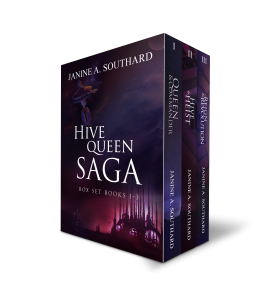 Bonus for Kindle readers only. The whole series is available in an ebook boxed set for 30% off the individual item prices.
Follow Rhiannon and her Hive across the galaxy in this completed series!
Only available at Amazon.com.