Blurb bio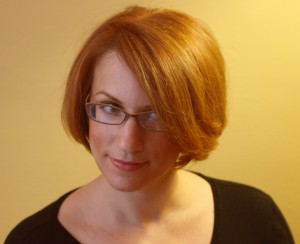 Janine A. Southard is the IPPY award-winning author of the Hive Queen Saga. From her home in Seattle, she is currently working on the next Hive Queen book. In early 2015, she released her first half-contemporary, half-fantasy novel for adults, Cracked! A Magic iPhone Story.
For a longer version of this author bio, click here because why not?
Ten facts about Janine
1. Janine's all-time favorite TV show is the British classic Blake's 7. (Followed closely by Firefly, Gossip Girl season 2, and Yes, Minister.)
2. She's a semi-professional singer who's performed Celtic folk-rock in auditoriums and classic rock hits in backyards.
3. Her favorite color is green. Which goes nicely with her red hair.
4. Janine was voted "Tyrannist for Life" of the Oxford Folklore and Fanfiction Society. Since leaving university, she hasn't organized any meetings, but maybe when she next visits the UK…?
5. Janine worked as an economic consultant before she became a writer. Her fiction always has an economic angle, even if she's the only person who notices.
6. Janine believes she will someday be fluent in another language. So far, she's closest in Spanish, Japanese, and Welsh. By which, she means she can get through a level 1 podcast lesson.
7. Janine has lived in three countries: the US, the UK, and Japan. She used college as an excuse to go far from home.
8. Janine's favorite drink is Diet Caffeine-Free Coke. It just tastes the best.
9. Janine got really serious about writing as a career in 2012, after freelancing to craft stories and dialogue for videogames. She thought, "I can get paid to write this all day!" and so it was.
10. Still not enough stuff about Janine? You can read a longer bio here, but it's pretty boring.
A totally different kind of bio
Janine A. Southard is a Writer & Editor with experience in videogame content, narrative fiction, and Marketing Communications. She's crafted copy for large clients and edited novels for individual authors.
Her three most recent projects include:
Gaming – Writing lore, character dialog, and short stories for the MMORPG Aion Online: Assault on Balaurea.
Corporate Marketing – Editing, revamping, and updating an Amazon Web Services site section.
Fiction Editing – Working with romance authors at Noble Romance Publishing to get their novels ready for publication, from substantive editing to proofreading.
Also in the Marketing vein, she has presented on Social Media initiatives to internal clients (ever since spearheading PopCap Games's social forays) and has worked as both a corporate and an agency copywriter for products like: research reports, presentations, newsletter articles, emails, and more.
Whether she's creating on-brand copy for a corporation or helping a fiction author to hone the craft, Janine has a variety of writing and editing experience.