Welcome to a stop on the Untethered: A Magic iPhone Anthology blog tour! Each of these posts has been an interview with the authors, sharing aspects of their stories, their creativity, or their projections for the future. On this stop, we're continuing the "what the authors learned" segment.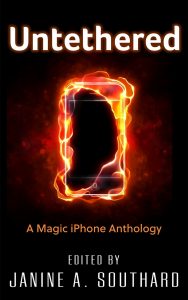 All authors do research for their stories. In honor of the book release for Untethered: A Magic iPhone Anthology, three authors divulge what they looked up, discovered, or simply ran across in the process of creating tales of magic and technology.
These three atuhors talk about the editing process, which is why they ended up on the anthology editor's blog. 🙂
A. Moritz: Did you know that there are entirely different palettes for sunrises and sunsets and that they change according to your location? I've always had this idea in my mind of what a sunrise is, only to find out when I researched that the colors I think I remember are actually much more muted and softer than the colors seen in sunsets. I also discovered that Siri really does have some interesting responses to our queries!
C.S. O'Cinneide: To always be open to rewrites. If I hadn't been, I wouldn't have had a chance to be a part of such a great book with so many cool authors. 😀
Jeremiah Reinmiller: I set down to write a funny story. As soon as I thought of tech support, a bunch of jokes leapt to mind. I've done IT work, I've seen some things. But then I thought not just of the problems that arise with technology, but the ways users utilize that technology. For good, and for ill. I think we've all seen the reports of cellphone and Internet misuse and all the trouble they've caused for the victims. As soon as I combined the two ideas, I had my story, and I saw how the comedy could be used to highlight the real problems. I hope I've been able to do that well in my story.

Want to see what these authors did with the concept of a magic iPhone? Pick up your copy of Untethered: a Magic iPhone Anthology in ebook or trade paperback today. Find it at Amazon.com, Nook, or wherever you prefer to grab your books.
Extra Interest: Rhiannon Held shares "I'll cop to still having a dumb phone. It's not some kind of anti-technology stand, it's simply that it saves me a heck of a lot of money, and I know if I give myself 24/7 access to email, I'll probably abuse it. So I was fairly uninfluenced, I'd say."
Earlier blog posts on the tour: