Here are some things I did this year… in vaguely chronological order.
– Published my first contemporary novel! (Still speculative fiction, but it counts.) When Cracked! A Magic iPhone Story came out, I had a party and went on a SFWA tour for it. Reviews were largely positive, one reader even comparing my writing to Douglas Adams! And then it got short-listed for a Cygnus award. Fingers crossed for that in 2016.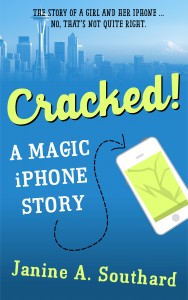 – Hurt my right wrist while practicing vaults in a parkour class in January. After 11 months, I finally had surgery for said wrist. In between, there was much medical head scratching, the acquisition of a one handed keyboard, and very constrained writing sessions. New diagnosis claims I'll be back to writing full time (and doing demanding stuff like parkour) by summer 2016. Maybe.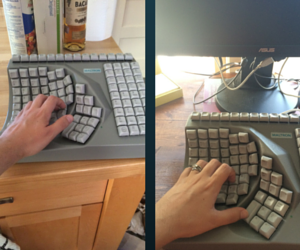 – Sold a story about a one-handed parkour practitioner to a Mage: the Ascension anthology, Truth Beyond Paradox (to be published next year by Onyx Path Publishing. (It's headlined by Seannan McGuire, so I can do some cool name dropping there.) I got something good out of that injury!
– Wrote two speculative mystery holiday stories for the Joy to the Worlds collection. It may be the most traditionally reviewed work I've ever been part of. The San Francisco Review of Books, SFFWorld, and Publishers Weekly! (PW says it "glisten(s) with holiday wonder.")
– Did some interesting stuff with my hair (which I've decided to grow to its max length after chopping it to under an inch in 2011). While I'm personally psyched about learning some braiding tricks, my long haired followers may want to know about my experience with keratin smoothing treatments. Post-surgery, I can barely wash my hair without help, much less dry, style, or put product on it. So a hair treatment that dries my hair in a fraction of the time and in such a way that it consistently looks like I put effort into blowing it out neatly? Is amazing. (How neatly? I didn't bother to take a hair brush on my post-novel-drafting vacation. My unlucky spouse had trouble when his hair started sticking up funny and begged for help. Sorry, baby. No hair brushes here. You could put some water on it.)
– Colin Baker spontaneously showed up to my panel at Anglicon this summer, where he was the guest of honor. The former Doctor Who star heard that I was showing a guest-star clip of him at my Blake's 7 retrospective panel, and he showed up unannounced! He recited lines, told stories about filming, and was generally awesome. Yay!

In 2016, I plan to write at least one series of novelettes, be a panelist at some more cons, publish the last intended novel in the Hive Queen Saga, and finally heal from my wrist injury/surgery. What are your best hopes for 2016?