I've been asked by a delinquent holiday gift-giver: "Hey, Janine. What are some books you've re-read a zillion times? I'm thinking of putting together a bundle." Well, it was something like that. I don't remember the exact quote.
At first I hesitated to answer because my "often re-read" list is a bizarre mish-mash. Let's just call this a glimpse into my psyche.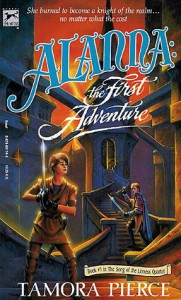 Alanna: The First Adventure by Tamora Pierce.
This middle grade novel follows a medieval magic user who trades place with her brother so that she can become a knight and he can go to magic school. There's sword-fighting, a thieves' court, and cross-dressing (one of my fave elements in everything). The second book in this quartet is also great. But I'd skip three and four (after reading them once for completeness sake).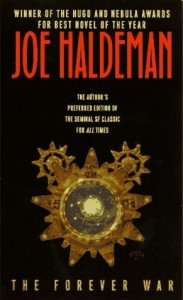 The Forever War by Joe Haldeman.
This is an iconic novel for people who love anything with space marines. Written right after Vietnam, it gives a strong feel for war in all its incarnations. The futuristic technology may be new, but the situations are familiar.
Swordspoint by Ellen Kushner.
In a world where you can hire a swordsman to fight your duels for you, the country's greatest duelist has an spoiled boyfriend who points him at trivial stuff… until the trivial snowballs into political drama.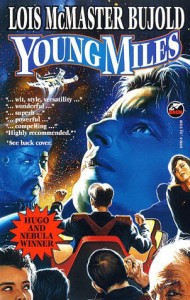 Young Miles by Lois McMaster Bujold.
In this clever space opera, you can take the boy off his political-nightmare planet, but you can't take the head for politics out of the boy. Or something like that. The really cool parts are where our hero steals his ship back from the mercenary fleet and proceeds to steal all of the fleet's other ships while he's at it.
Bardic Voices, vol. 1 by Mercedes Lackey.
Musicians and magic in medieval somewhere! This young adult fantasy contains a crazy number of genre tropes. For instance, it's the first book in which I read the "our protagonist is hypothermic, so she has naked cuddles with her crush… leading to, yeah" device. It also involves a fantasy version of "The Devil Went Down To Georgia."
The Pillow Book of Sei Shonagon by Sei Shonagon.
Non-fiction. This is the diary of a courtier in medieval-ish Japan. Shonagon is super-sarcastic and poetic and awesome. She has these page-long lists of stuff like, "Things I Hate" and "How A Lover Should Leave In The Morning."
So, ah, if you too are still looking for gift-y books often re-read by me, you can pick these all up and add a tea mug to a basket. Maybe I should do another post of "books I recommend to people who like X"?